JUSU FUEL
At JUSU we are committed to making good food that is good for you.
Each of the items below are hand-crafted and made with whole ingredients that are 100% organic.
Please note that our fuel menu does vary from location to location and is subject to availability.
SHAKES
Spice Whirled
almond mylk, banana, cardamom, mango, turmeric, vanilla
Superfood infused shakes, each loaded with vitamins and whole foods. Perfect for a any-time of the day pick me up!
Sweet Violet
maple water, coconut mylk, blueberries, avocado, dates, hemp hearts, lemon, cinnamon

Strawberry Avalanche
coconut mylk, almond mylk, strawberry, banana, dates, vanilla, cacao nibs

Coffee Break
almond mylk, Fernwood cold-brew coffee, banana, cacao, dates, vanilla, cinnamon, cacao nibs, sea salt
Popeye
almond mylk, spinach, almond butter, banana, figs, brown rice protein
Smooth Operator
banana, cilantro, kale, orange, spinach, strawberry
SOUPS & SALADS
Kale Slaw
kale, cabbage, carrot, sunflower seeds, tamari-balsamic vinaigrette
Harissa Quinoa Salad
quinoa, spinach, black beans, carrot, cilantro, corn, bell pepper, basil, harissa vinaigrette
Taco Salad
nut meat, romaine, avocado, tomato, bell pepper, cilantro, cashew sour cream, cashew chedder cheeze, corn
We are 100% committed to being organic, always. That means everything in our products, down to the last pea sprout or crouton is made without the use of chemicals or hormones.
Sushi Salad
nori, black rice, yam, red bell pepper, avocado, cucumber, carrots, purple cabbage, sesame seeds, herbed aioli
Curried Chicken
curried chicken, cabbage, coconut milk, lentils, currants
Caesar Salad
romaine, peas, radish, sundried tomatoes, chives, black sesame seeds, vegan parmesan, almond pulp croutons, cashew caesar vinaigrette
CRACKERS & DIP
Emerald City Crackers
almond pulp, dill, Emerald City pulp, flax seeds, lime, sunflower seeds, sea salt

Classic Crackers
almond pulp, Classic pulp, flax seeds, herbs, walnuts, sea salt, walnuts

Hawkeye Crackers
almond pulp, flax seeds, Hawkeye pulp, Himalayan salt, red pepper flakes

Cashew Cheeze Dip
cashews, garlic, lemon, nutritional yeast, onion flakes, red pepper, tahini, Vancouver Island sea salt
BAKED GOODS
Quinoa Scone
quinoa, Roma tomatoes, egg, onions, rice flour, cheddar cheese, salt, baking powder, onion powder, spinach, chili flakes, chili powder, basil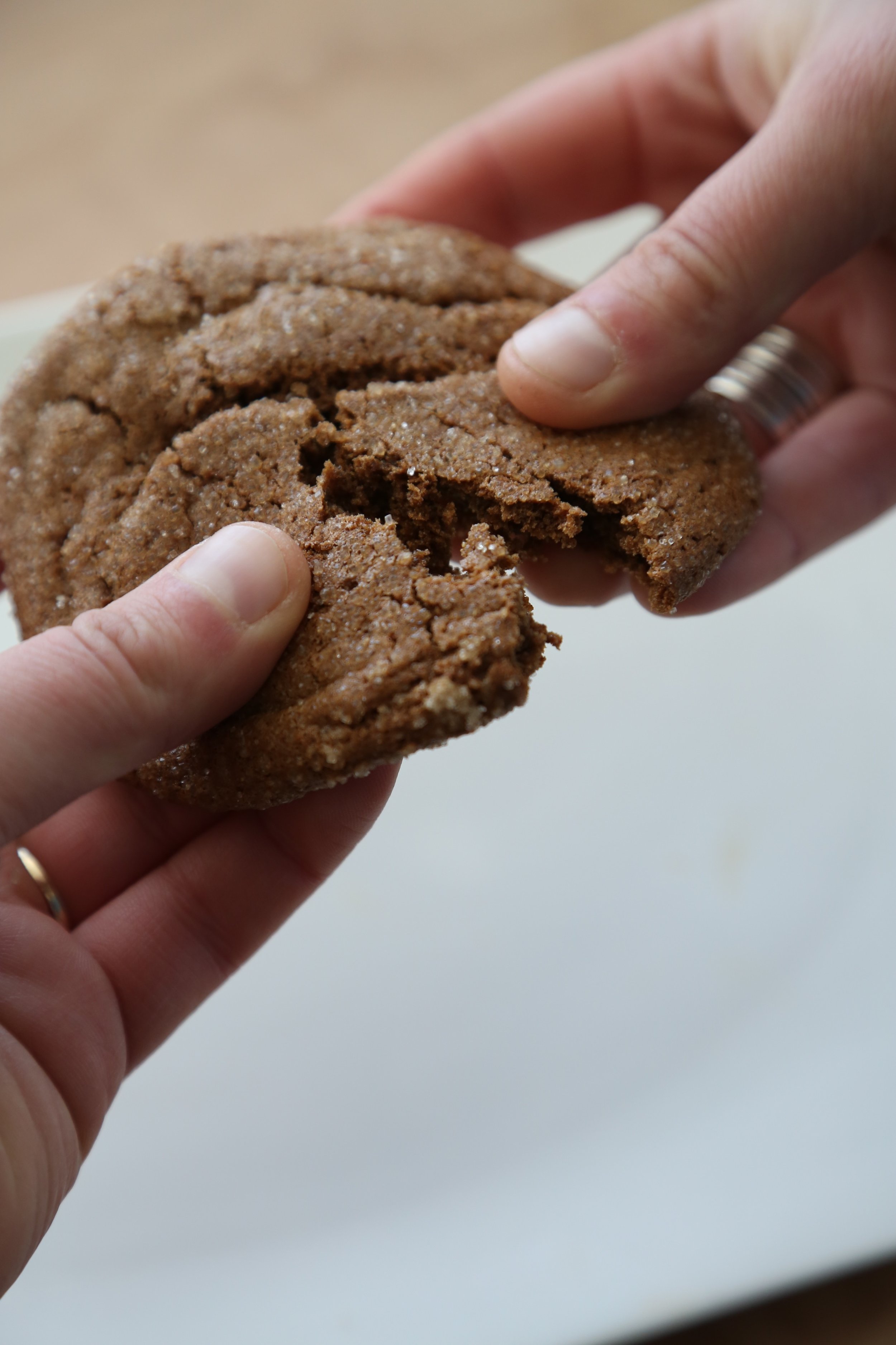 Soft, chewey and gluten free. What more do you need?

Ginger Cookie
almond butter, coconut sugar, eggs, gluten free oat flour, molasses, fresh ginger, ground ginger, cinnamon, baking soda, salt, allspice, black pepper, cane sugar

The Big-O Cheesecake (raw)
almond pulp, brazil nuts, cacao, cashews, coconut, dates, maca, Vancouver Island sea salt, vanilla
SMOOTHIE BOWLS
Berry Insane
acai berry, almond butter, almond mylk, banana, blueberry, strawberry, brown rice protein, dates
Pink Dragon
pitaya (dragon fruit), almond mylk, lemon, mango, banana, dried dragon fruit
Eden Bowl
orange juice, coconut mylk, spinach, avocado, mango, banana, moringa, chia seeds, cashews
Smoothie bowls topped with:
fresh banana and Jusu homemade granola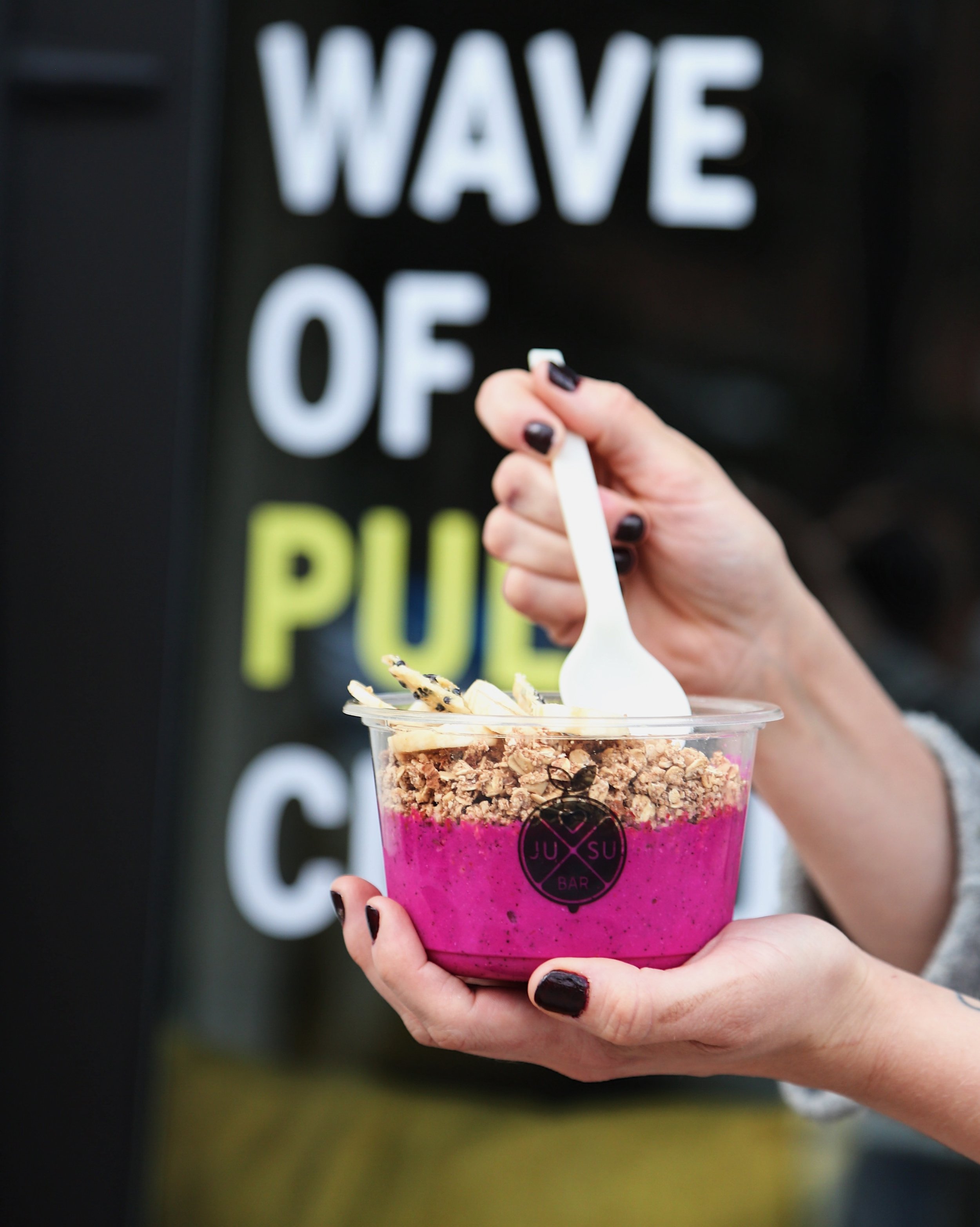 High in fibre and perfect for those on the go. Each bowl is topped with Jusu's gluten-free almond granola
(Pink Dragon Bowl Pictured)
SNACKS
Yogurt Cup
dairy yogurt, Jusu almond granola, figs, pistachios, poppy seeds, lemon-cardamom honey, fruit compote
Chia Cup
raspberry coconut chia, fresh berries, pumpkin seeds
ENERGY BITES
Raspberry Energy Bites
raspberries, almond butter, coconut, dates, cranberries

Chocolate Chia Energy Bites
maca almond butter, chocolate, dates, cashews, chia seeds, coconut, vanilla, maple syrup
WRAPS & SANDWICHES
Breakfast Wrap
option of Jusu GF classic wrap OR whole wheat wrap, egg, avocado, chipotle aioli, cheddar cheese, spinach, roasted red pepper
Vegan Tahini Wrap
yam, spinach, roasted cashews, avocado, lemon, tahini, herbed aioli, whole wheat gluten wrap
Chicken Chipotle Wrap
chicken, corn, chipotle aioli, avocado, black beans, spinach, cheese, whole wheat gluten wrap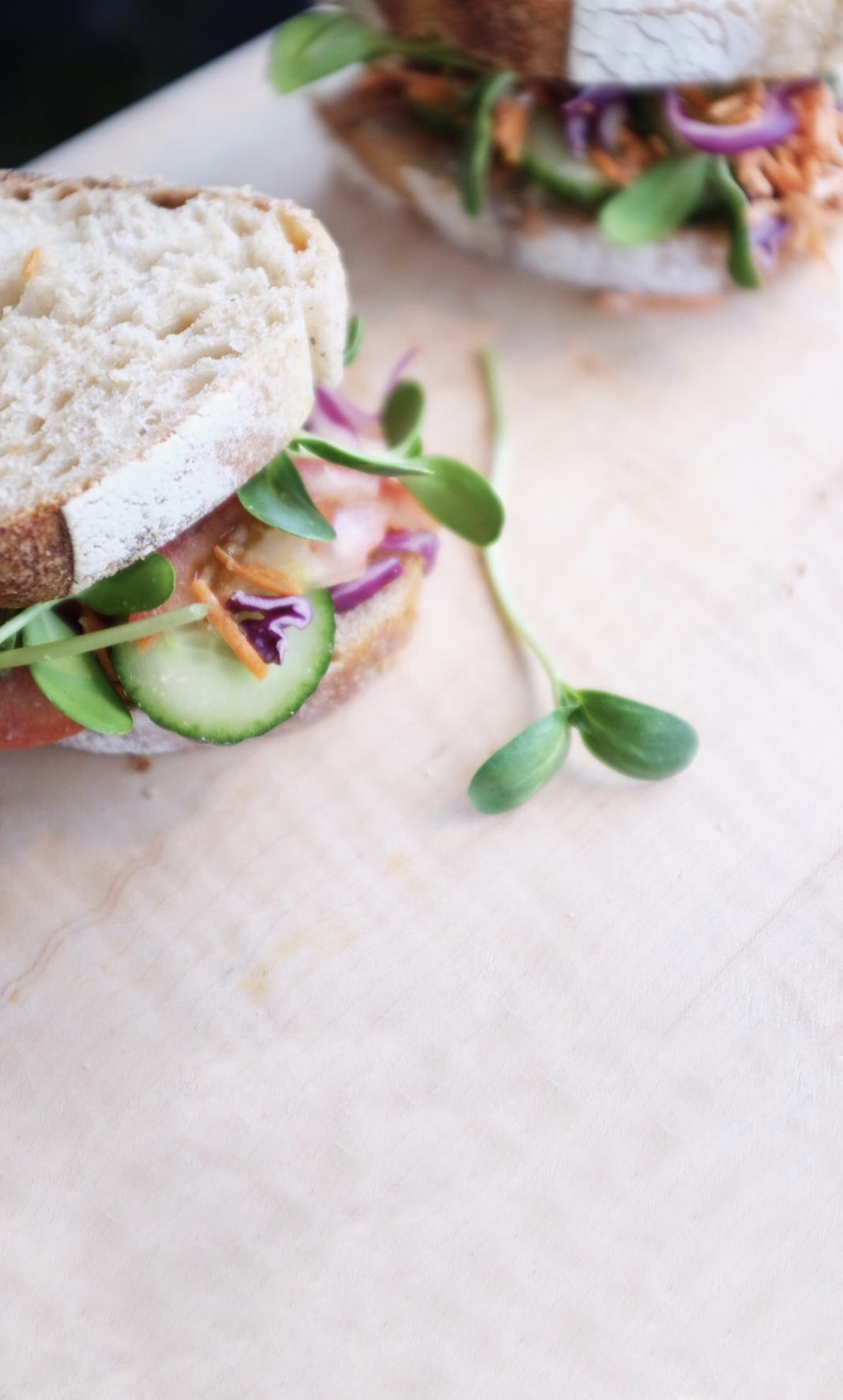 We use ethically sourced local meats in our products to ensure quality and reduce our ecological footprint.
Veggie Hummus Sandwich
Jusu hummus, carrots, purple cabbage, pickled red onion, tomato, cucumber, sprouts, sourdough bread
Chicken Cranberry Sandwich
chicken, cranberry sauce, cheese blend, spinach, herbed aioli, sourdough bread
ROLLS
Sushirito
nori, black rice, yam, red bell pepper, avocado, cucumber, carrots, ginger-citrus aioli, purple cabbage, sesame seeds
Taquito
nut meat, romaine, avocado, tomato, bell pepper, cilantro, cashew sour cream, cashew cheddar cheeze, jusu classic wrapper
TOASTS
Our toasts are packed with whole super ingredients on gluten free bread. Each of these are made fresh to order.
Maca Toast
option of gluten-free or sourdough bread, maca-cinnamon almond butter, gluten-free toast, banana, slivered almonds, purple cabbage sprouts
Avo Toast
option of gluten-free or sourdough bread, avocado, gluten-free toast, vegan almond parmesan cheese, purple cabbage sprouts